All products featured on Domestic Gourmet are independently selected. I may earn an affiliate commission when you buy through links on this site.
Madent Al-Taybat Roastery, meaning "The City of Delicious Goods," mixes some of its many spices, one of which is "chicken spice." Dicing and seasoning the chicken takes only 5 minutes. You can grill or pan sear (click here for my favorite pan!), pair with rice or potatoes, or serve as a sandwich with pita or atop a salad. The options are endless!
Madent Al-Taybat Roastery sells dozens and dozens of spices and herbs, Turkish desserts, Halal sweets, assorted nuts and fruits, tea, coffee, and beautiful Palestinian home goods.
Sahten!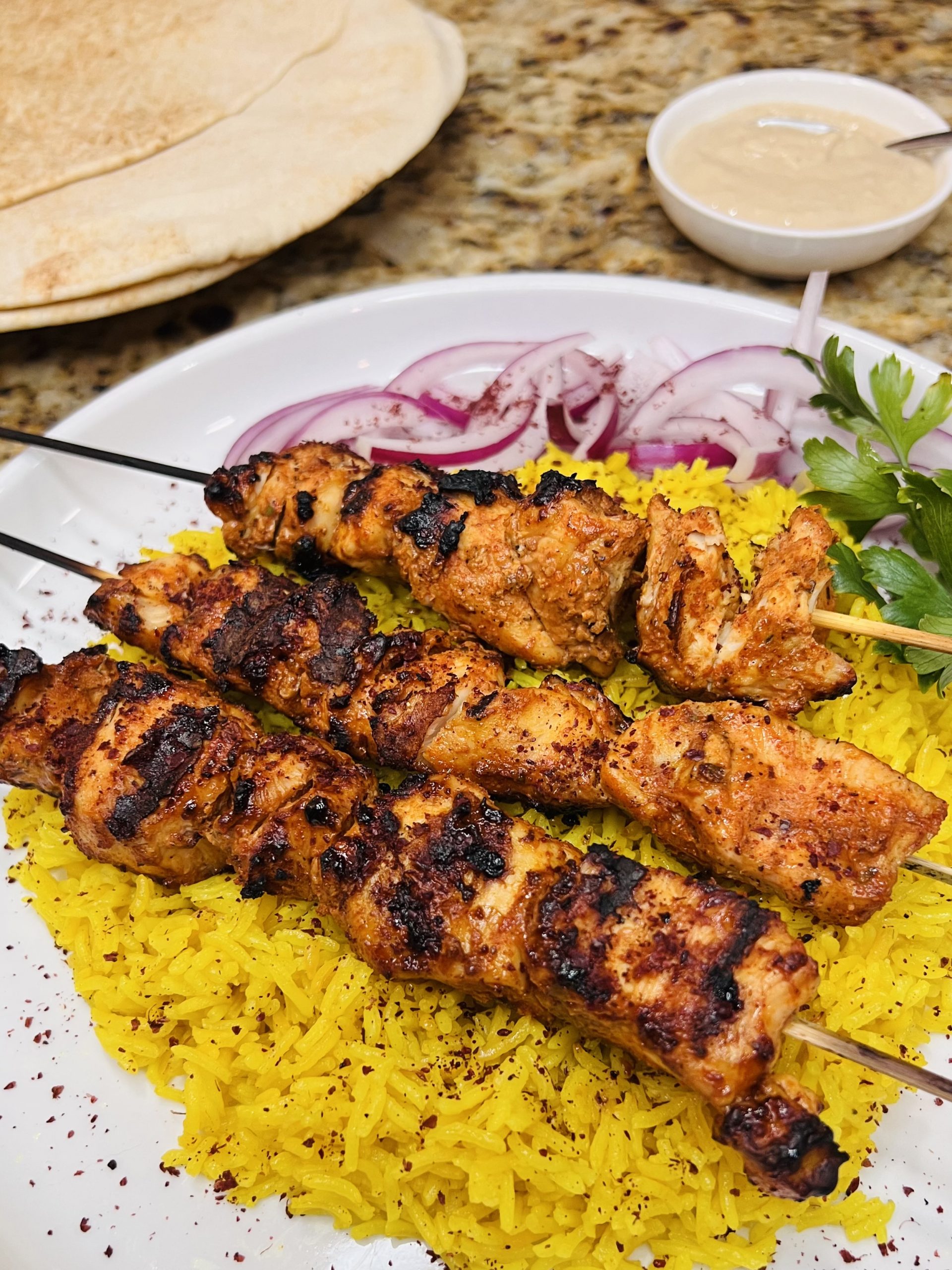 Quick & Easy Chicken Kebabs
Instructions
Cube chicken into 1½"-2" squares.

Sprinkle on chicken seasoning, salt & yogurt, and mix well.

Skewer 5-6 pieces of chicken per skewer. You may have to trim the skewers to fit in a pan.

Set the grill, cast iron, or non-stick to medium heat.
If using a grill:
Dip a paper towel into the olive oil using tongs and coat the grill grates.
If using a cast iron skillet or non-stick pan:
Add 1 tbsp of olive oil to the pan.

Cook the chicken kebabs for 2-3 minutes on all 4 sides.

Remove from the grill or pan and lightly cover with aluminum foil to rest for 5 minutes before serving.
Pro Tip:
Prepare chicken the night before or before work and let it marinate in the fridge. Set the chicken out for half an hour, allowing it to reach room temperature, before cooking.
Notes
How to include your child(ren):
 Strengthen your little chef(s) elementary math and measurement skills by allowing them to set up your mise en place.
Chef(s) of all ages can glove up and enjoy the sensory play of bathing the diced chicken in the marinade and carefully skewering the pieces.
Older chef(s) can practice their knife skills by dicing the chicken in relatively consistently sized pieces. Depending on their age, using your judgment of your child(ren), allow them to cook the kebabs. 
Chef(s) of all ages can set the timer, starting with 2 minutes, checking for grill marks before flipping or adding more time to the clock. This teaches the concept of time passing and will also help strengthen elementary math for the younger chef(s).
Did you make this recipe?
Please let me know how it turned out for you! Leave a comment below, tag @domesticgourmet on Instagram, and hashtag #domesticgourmet.