All products featured on Domestic Gourmet are independently selected. I may earn an affiliate commission when you buy through links on this site.
Pork chops are on rotation in my home after telling my children they were "chicken lollipops." That white lie got them to try them once, and that's all it took for them to become a fast favorite. Coupled with an air fryer, I can have dinner on the table in 20 minutes. The balsamic peach glaze has the sweet acidic complexity of bbq sauce but a lighter toned-down version.
I recommend pairing this meal with rosemary & sea salt potatoes for a "one-pot meal." Just toss it all into the air fryer and call it a day!
iBuen provecho!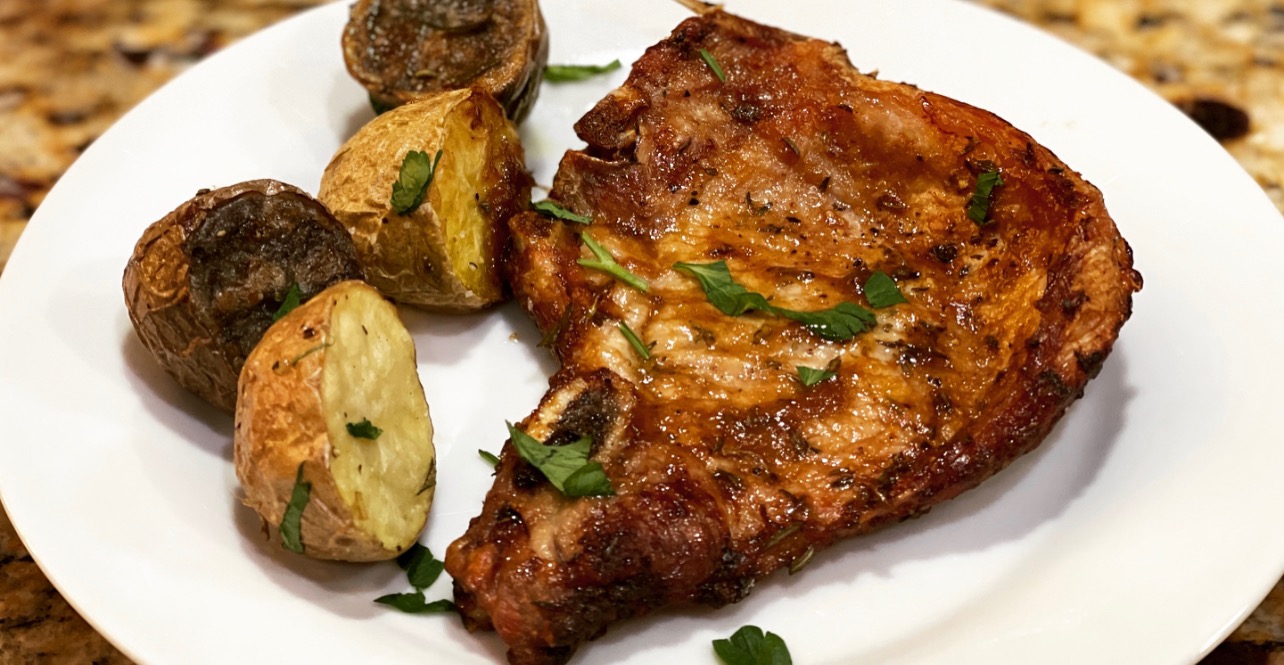 Air Fried Balsamic Peach Glazed Pork Chops
Instructions
Preheat the air fryer to 350 degrees.

Sprinkle salt, pepper and fresh thyme evenly on both sides of the pork chops.

Place pork chops in the air fryer and set the timer for 15 minutes.

After the 15 minutes are up, open the air fryer and use a basting brush to coat the pork chops with the balsamic peach glaze liberally.

Using tongs, flip the pork chops over and coat the other side.

Close the air fryer and set the timer to cook for 5 more minutes.

When the pork chops have finished cooking, open the air fryer and baste them again with the glaze before serving.
Notes
How to include your child(ren): If you grow thyme in your garden, teach your child(ren) where to find it and how to harvest it for you. Let the younger chef(s) practice their scissor skills by cutting a couple of sprigs independently. Children's training scissors can cut thyme while also remaining safe for the young chef(s) to use.   Pro Tip: Keep a spare pair of preschool training scissors in your kitchen dedicated only for food usage.  
Did you make this recipe?
Please let me know how it turned out for you! Leave a comment below, tag @domesticgourmet on Instagram, and hashtag #domesticgourmet.