All products featured on Domestic Gourmet are independently selected. I may earn an affiliate commission when you buy through links on this site.
I love my Nordic Ware Bundt Quartet Pan because it consistently turns out show-stopping baked goods. This recipe is perfect for hostesses and holiday gifts for those who love pumpkin bread. Grab these boxes to wrap them in, and call it a day!
I also love to have this pumpkin bread on hand for my kids who are not keen on eating breakfast as early as they need to before school. However, they will eat this no matter the hour, and by adding superfoods, I feel good about it.
iBuen provecho!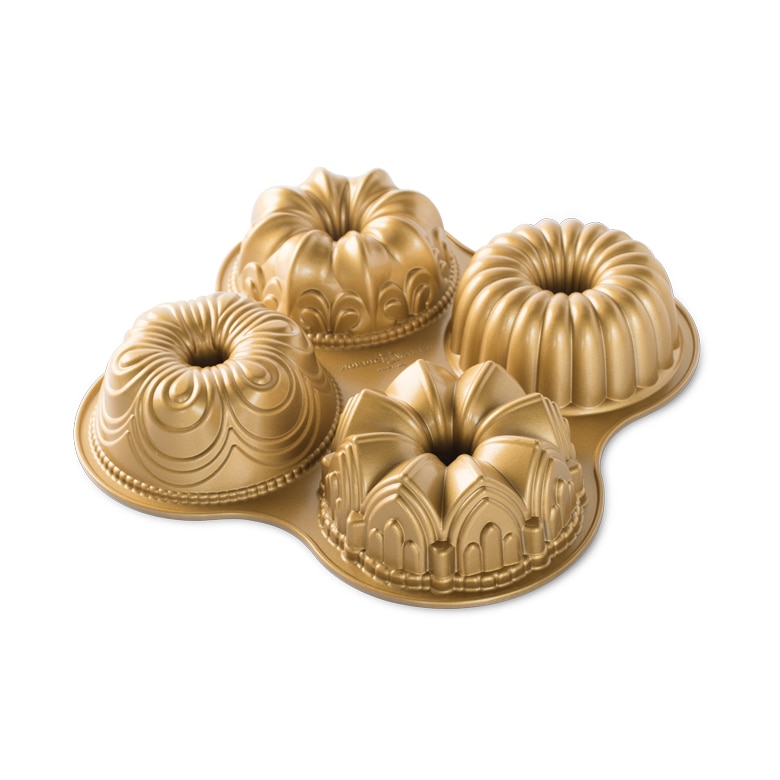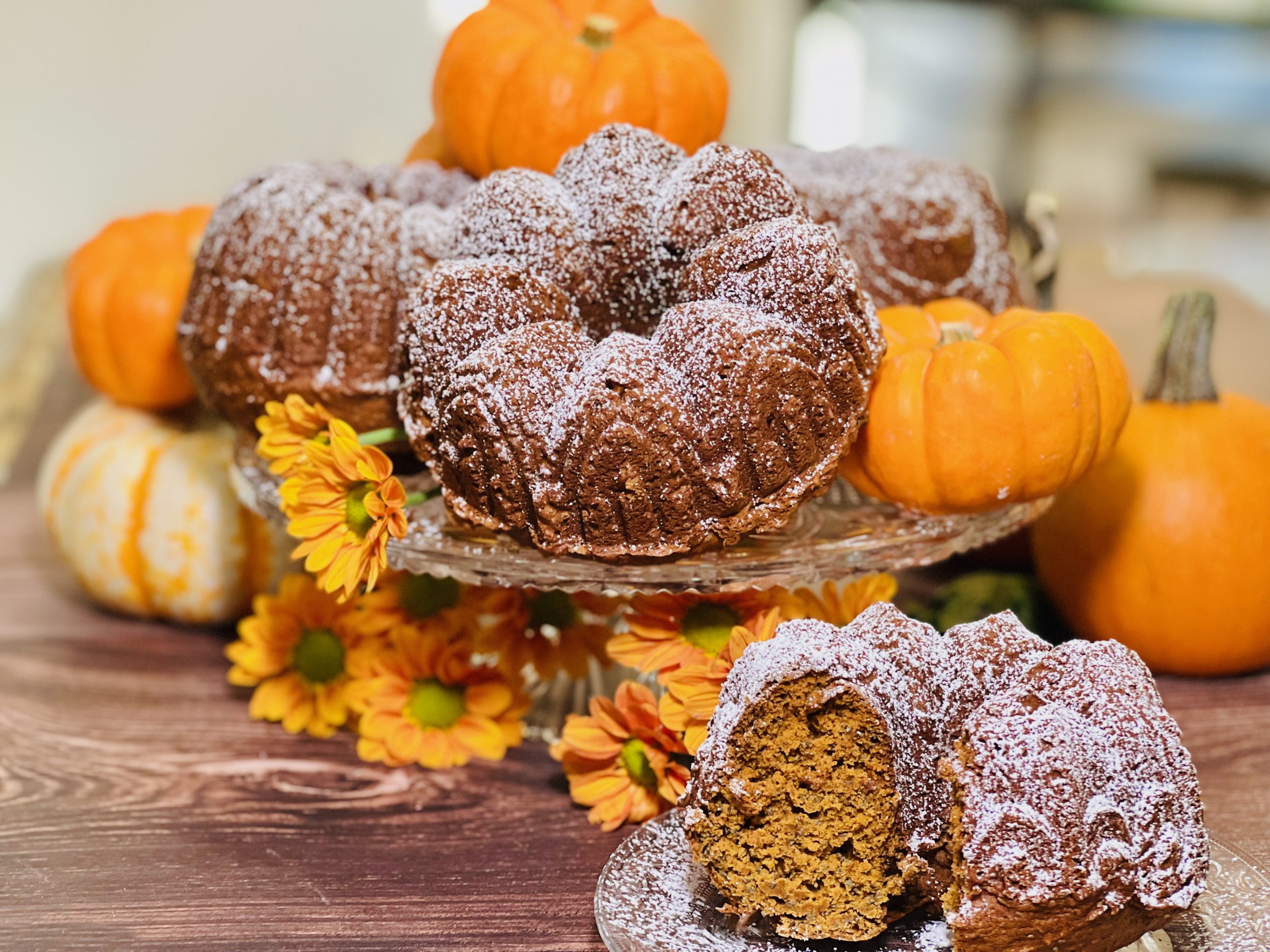 Pumpkin Bread
Instructions
Preheat the oven to 350 degrees.

Lightly coat the bundt quartet pan or loaf pans with baking spray.

Whisk together flour, baking soda, salt, cinnamon, nutmeg, cloves, flaxseed, and chia seeds in a medium-size mixing bowl.

In a separate large-size mixing bowl, whisk together brown sugar and softened butter until fully incorporated and crumbly.

Add two eggs to the brown sugar and butter mixture and whisk until evenly distributed.

Whisk to combine the buttermilk or sourdough discard mixture into the brown sugar, butter, and eggs until silky smooth.

Add ⅓ of the flour mixture from the medium size mixing bowl into the large mixing bowl and whisk until fully incorporated.

Add ½ of the pureed pumpkin to the large mixing bowl and whisk until fully incorporated.

Repeat this process of alternating the flour mixture and the pumpkin, making sure to whisk until no dry clumps appear in the batter.
For Bundt Quartet Pan:
Evenly distribute the batter among the four bundts, filling each ¾ of the way to the top.

Bake in the oven for 32-35 minutes.

Insert a toothpick. The bread is done baking when the inserted toothpick comes out clean.
For Loaf Pans:
Evenly distribute the batter between both pans.

Bake in the oven for 60-65 minutes.

Insert a toothpick. The bread is done baking when the inserted toothpick comes out clean.
After Baking:
Remove the pan(s) from the oven and set aside to rest for 10 minutes.

After 10 minutes, invert the pan(s) to remove the pumpkin bread and allow it to cool to room temperature before serving.

Optional: Sprinkle with powdered sugar before serving.

Store in a reusable silicone storage bag, wrap tightly with plastic wrap or place in an airtight container.

It can be stored on the counter for up to 3 days, in the fridge for up to 7 days, or frozen for up to 3 months.
Freezing Instructions:
Wrap pumpkin bread tightly in plastic and then heavy-duty aluminum foil beforehand.
Notes
Notes on how to include your child(ren): Help your little chef(s) sharpen those gross motor skills by allowing them to help set up your mise en place. Let them get some hands-on sensory by manually incorporating the softened butter into the brown sugar and have them tell you what they discovered after doing so!
For your older chef(s), setting up the mise en place sharpens critical thinking. Let them read and measure the ingredients independently and watch as they problem-solve, step-by-step, during the baking process. In the end, they'll not only have a sweet treat to enjoy but will build self-confidence in the process!
Nutrition
Serving:
1
slice
|
Calories:
192
kcal
|
Carbohydrates:
40
g
|
Protein:
4
g
|
Fat:
3
g
|
Saturated Fat:
0.5
g
|
Polyunsaturated Fat:
2
g
|
Monounsaturated Fat:
0.5
g
|
Trans Fat:
0.01
g
|
Cholesterol:
1
mg
|
Sodium:
390
mg
|
Potassium:
82
mg
|
Fiber:
4
g
|
Sugar:
23
g
|
Vitamin A:
23
IU
|
Vitamin C:
0.1
mg
|
Calcium:
81
mg
|
Iron:
1
mg
Did you make this recipe?
Please let me know how it turned out for you! Leave a comment below, tag @domesticgourmet on Instagram, and hashtag #domesticgourmet.