All products featured on Domestic Gourmet are independently selected. I may earn an affiliate commission when you buy through links on this site.
This rich, creamy omelette made with smoked salmon, homemade yogurt, and garden-fresh chives is a luscious start to any morning. For more heartiness, I recommend pairing it with a fresh slice of sourdough.
iBuen provecho!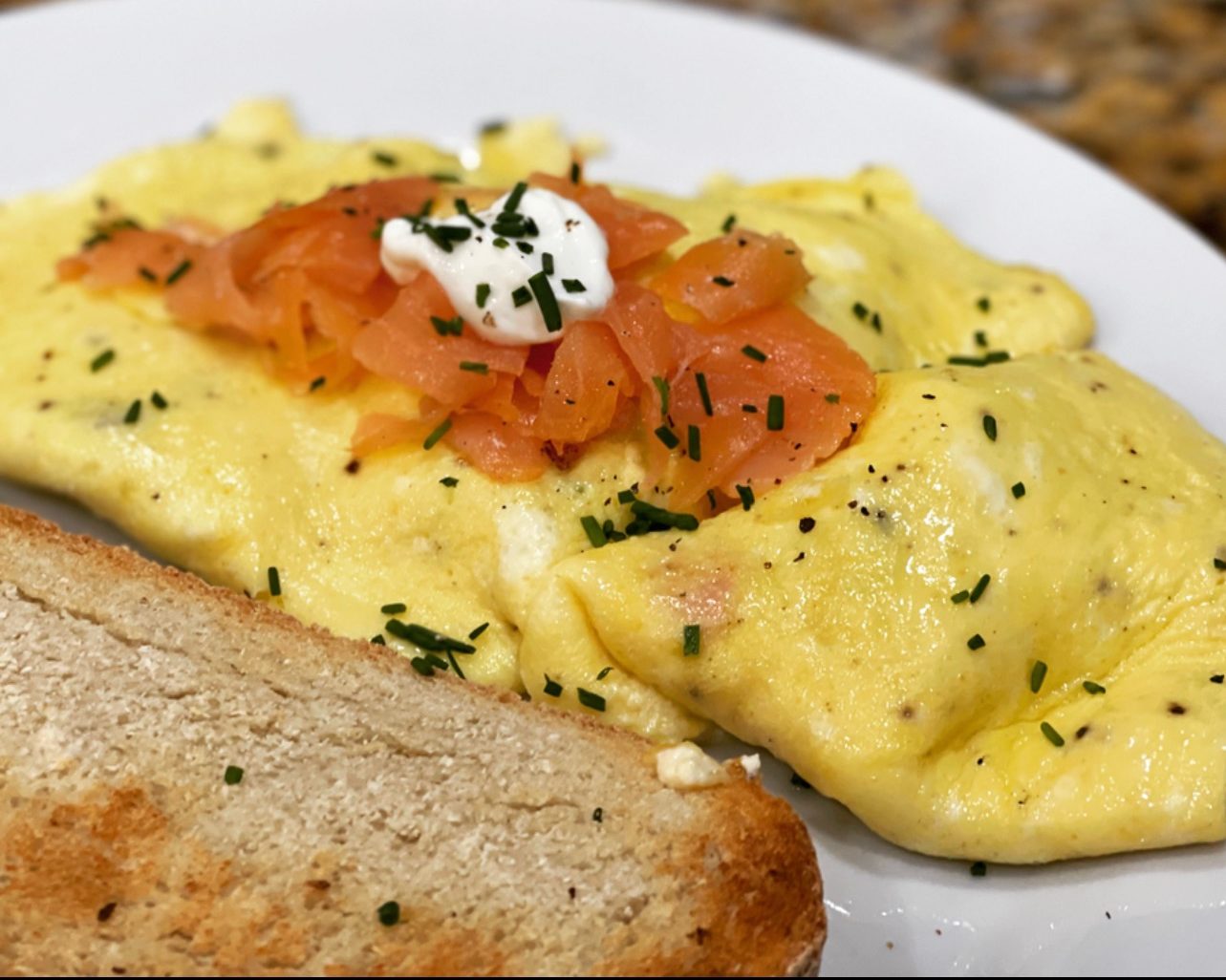 Smoked Salmon Omelette
This rich and creamy smoked salmon omelette serves as a delicious breakfast or brunch item.
Instructions
In a large mixing bowl, whisk eggs, cream, pepper, and chives.

In a 10 or 12-inch non-stick skillet, heat butter over medium heat.

Pour the egg mixture into the heated skillet and add the smoked salmon, spacing it evenly throughout. Add a few dollops of yogurt on one side of your omelette, it will evenly disperse when you fold it over.

Cover with a lid and cook low and slow over medium heat until the underside is set and the omelette is appearing to be cooked half-way through.

With a rubber spatula, fold in half and cover for another minute. You want your omelette to be soft and not brown or have crispy edges. The goal is creamy.

Once your omelette has finished cooking, slide onto a plate and garnish with more chives, another dollop of yogurt and smoked salmon.
Notes
How to include your child(ren):  Prep work can always be adapted in an age-appropriate way to allow your child(ren) to help.  They can break the eggs, whisk, measure, pour the ingredients, and either use a knife or use their hands to tear the chives and salmon.  Older children can practice using the spatula to fold the omelette; younger children can help watch the omelette, and together you can discuss when it is cooked and ready.  Let them finish by garnishing breakfast on their own!
Did you make this recipe?
Please let me know how it turned out for you! Leave a comment below, tag @domesticgourmet on Instagram, and hashtag #domesticgourmet.