All products featured on Domestic Gourmet are independently selected. I may earn an affiliate commission when you buy through links on this site.
This tropical-inspired granola is bursting with island flavors, featuring the sweet taste of coconut and tangy bits of pineapple. And the best part? You can whip up this tasty treat in just 40 minutes, making it a quick and easy breakfast option that will become a new favorite. So grab your apron
iBuen provecho!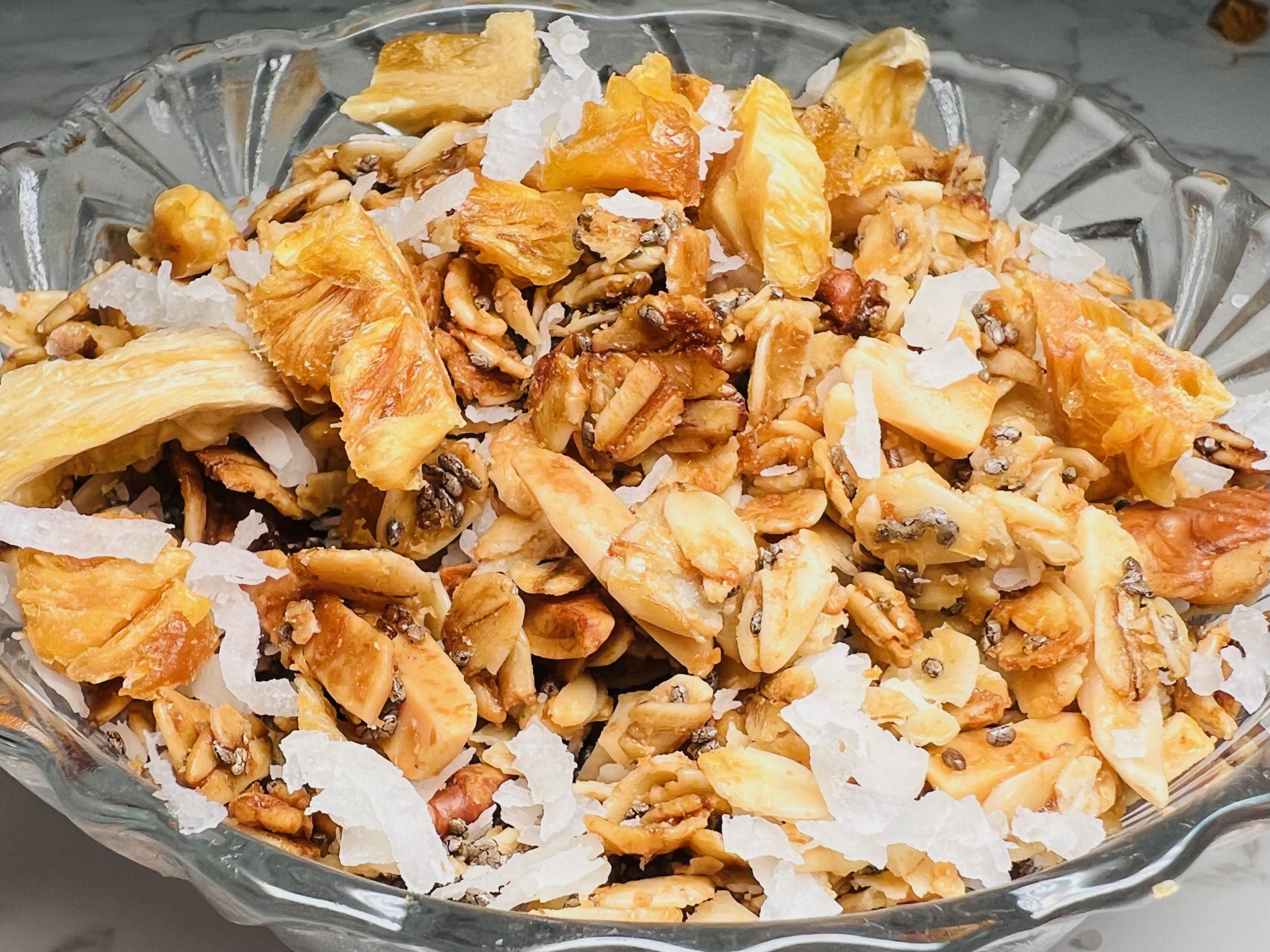 Coco Cabana Granola
Tropically-inspired granola, bursting with island flavors, featuring the sweet taste of coconut and tangy bits of pineapple.
Equipment
Optional: Parchment Paper
Ingredients
Pro Tip: Nuts can be substituted with whatever you prefer or have on hand.
Instructions
Preheat oven to 350 degrees.

In a large mixing bowl, combine oats, chia, almonds, walnuts.

Heat the coconut oil and Coco Lopez in the microwave for 30-45 seconds each or until it is clear liquid.

Add coconut oil and Coco Lopez to the mixing bowl and, using a spatula, mix until evenly covering the oats and nuts.

Pour the mixture onto a half sheet pan and, using the spatula, press the mixture down to one even layer.

Place the pan in the oven and bake for 25-30 minutes, until golden brown, checking after 25 minutes.

Remove pan from oven and allow to cool for half an hour.

Once cool, add the granola to a large mixing bowl and break up the granola to your desired texture.

Add the dehydrated pineapple and coconut flakes to the mixing bowl and gently toss until evenly distributed.
Optional:
Place parchment paper on the half sheet pan before adding granola for easy release of granola.
Notes
Notes on including your child(ren): Little Chef(s) of all ages can help prepare this yummy treat! Strengthen their fine motor and elementary math skills by having them measure, pour and mix the oats, nuts, and liquids. Setting the timer for 25 minutes helps chefs of all ages learn the concept of time. Can they clean up their mess while racing the clock? Only one way to find out! Finally, allow your little chef(s) some sensory time by having them mix and toss in the final ingredients with their bare hands.
Did you make this recipe?
Please let me know how it turned out for you! Leave a comment below, tag @domesticgourmet on Instagram, and hashtag #domesticgourmet.