This method is quick and easy; you'll be peeling a peach in seconds.
All products featured on Domestic Gourmet are independently selected. I may earn an affiliate commission when you buy through links on this site.
Most peach recipes require you first to peel the peaches. It sounds like a daunting task, but, in all actuality, it will take you longer to get water simmering than it will take to peel a dozen peaches. I promise.
Don't toss those peach peels! To limit waste, learn how to use them in a delicious Peach Simple Syrup or Peach Tea.
iBuen provecho!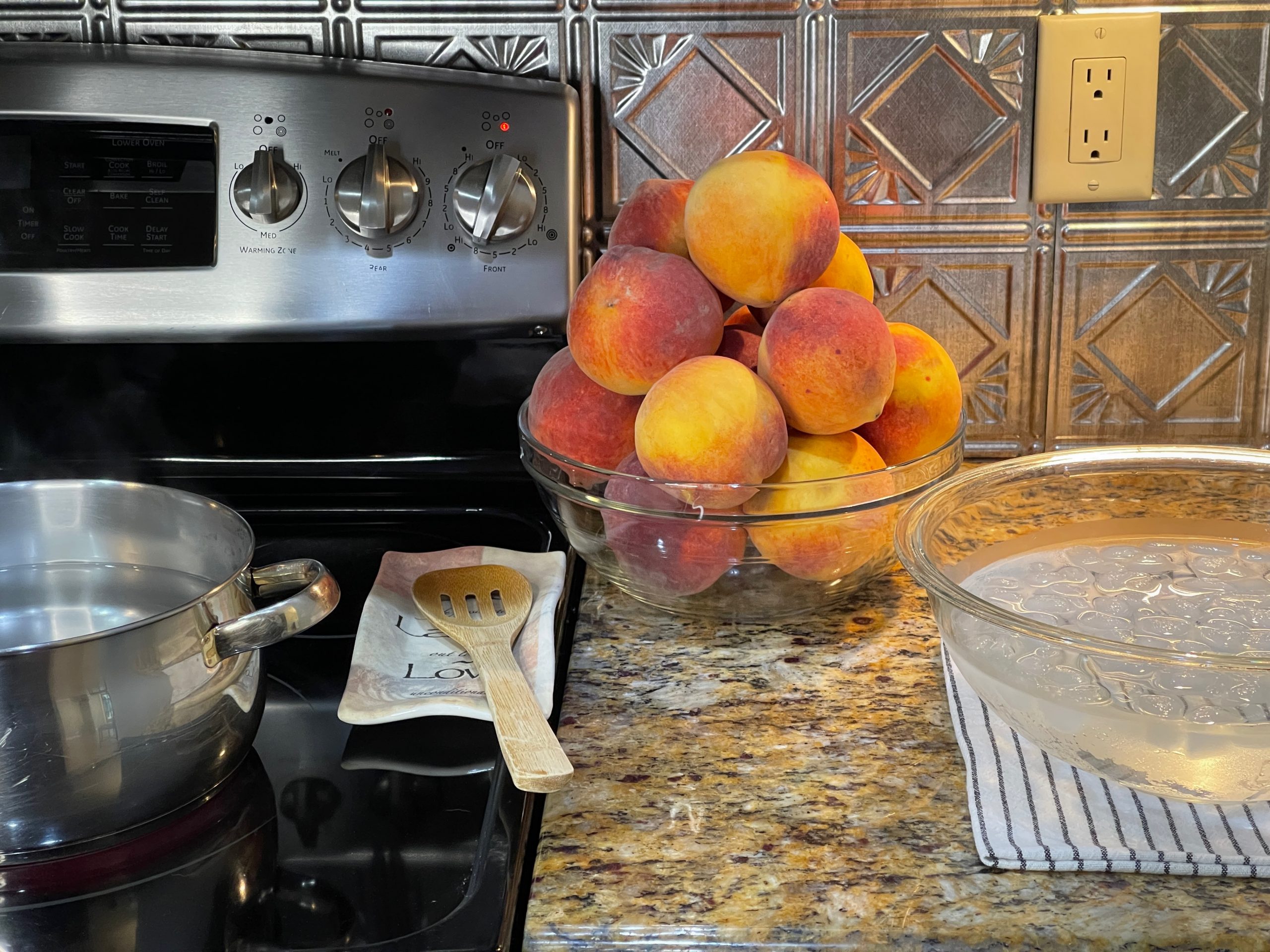 A Simple Way To Peel Fresh Peaches
Instructions
Fill a large pot with water and set to simmer over medium-high heat.

Fill a large mixing bowl with ice and cold water and set it on the counter next to the pot on the stove.

Once the water is simmering, carefully drop a fresh peach into the pot, no more than 3-4 peaches in the pot at a time. Remove after 15 seconds for room temperature peaches or 30 seconds for refrigerated peaches.

Immediately place in an ice bath.

After completely cooled down, about 2 minutes, remove from ice bath and rub up and down with your thumb. If the skin moves, then you should be able to simply peel the skin off.

Pro tip #1: loosen the skin around the stem area first, then the skin should easily roll down in just a few pieces from top to bottom.

Pro tip #2: If you have a peach with an unappetizing spot, you can cut it off. Blanch and peel what remains. The result is the same as blanching a whole peach.
Notes
How to include your child(ren):  
This is a great sensory activity! The peels are easy enough for your child(ren) to take off, and if you plan on making purée or peach filling for a dessert, it's ok if they're a little smooshed. Let them use a butter knife to halve the peaches and remove the stone. If you're making purée, let them manually smoosh the peaches into a pulp. I promise this activity could easily keep your child(ren) entertained for a while, allowing you some quiet bonding time.  
Pro Tip:  Line your kitchen table with newspapers or a cheap plastic shower liner from the dollar store to help contain the mess.
Did you make this recipe?
Please let me know how it turned out for you! Leave a comment below, tag @domesticgourmet on Instagram, and hashtag #domesticgourmet.