All products featured on Domestic Gourmet are independently selected. I may earn an affiliate commission when you buy through links on this site.
You will find this essential staple in every Puerto Rican kitchen. This herb medley is blended down to infuse an innumerable amount of dishes. The top 3 dishes that come to mind, because they are on constant rotation in my home, are Arroz con Gandules (rice with pigeon peas), Empanadas de Picadillo (ground beef empanadas), and Habichuelas Guisadas (red stewed beans). These dishes, among others, cannot authentically be made without this base. Consider this "the secret ingredients."
iBuen provecho!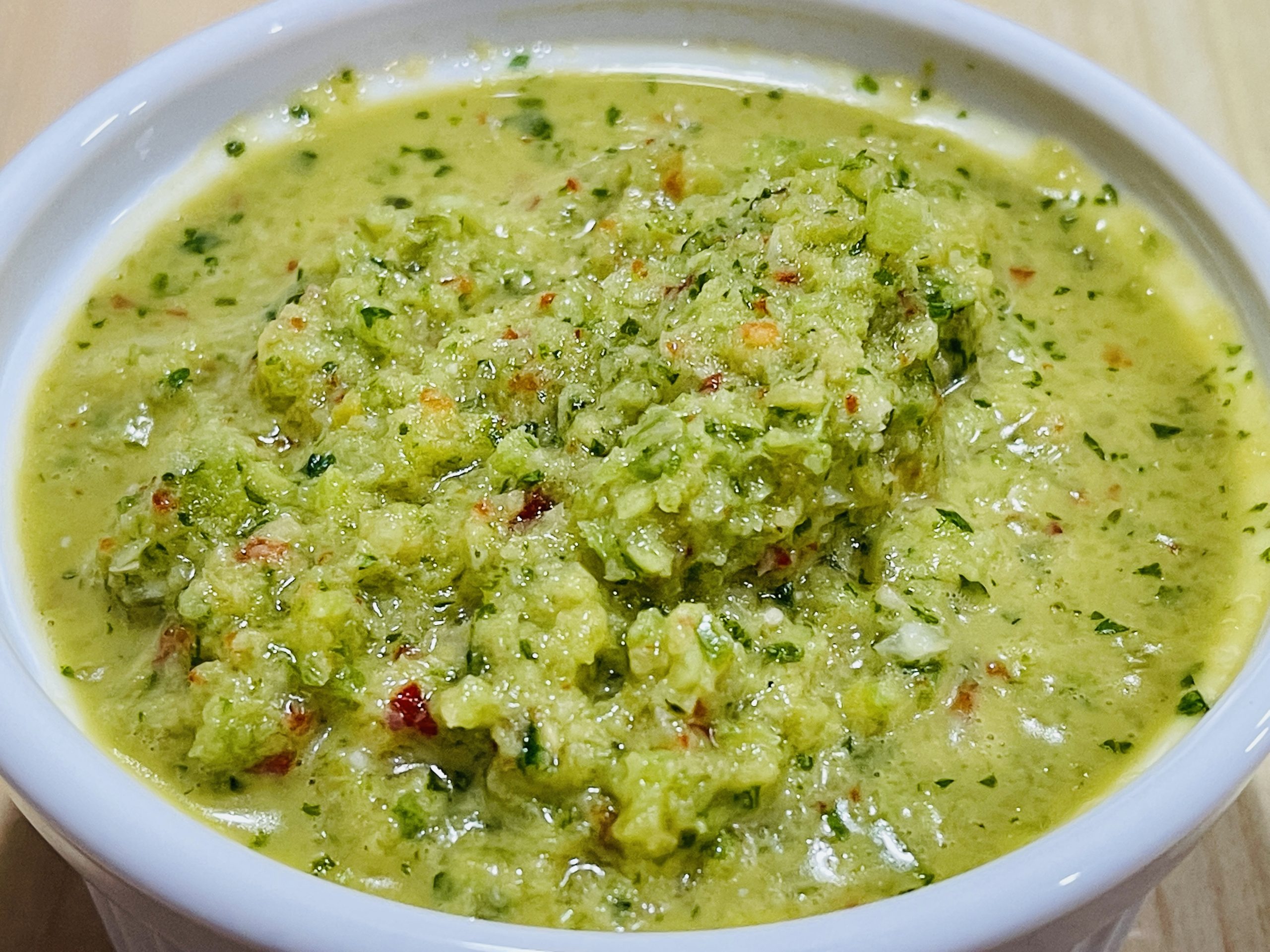 Garden-Fresh Puerto Rican Sofrito
This is one of those recipes that most people don't measure as it can be altered to your liking and is very forgiving. For those of you who've never made it before, this is a solid starting point. You can also double this recipe if you find yourself using it regularly.
Also, note: Sometimes, I add vinegar and use this as a condiment. It's delicious. If you choose to do so, use Vidalia onions as they're better eaten raw, whereas Spanish onions are better cooked.
Instructions
Using a chef's knife, peel and quarter (cut into 4 pieces) your onion on a cutting board and add to the food processor.

Remove the stem and seeds from the green bell pepper, quarter and add to the food processor.

Halve the ajicitos, remove seeds and stems and add to the food processor.

Crush and peel the garlic cloves and add to the food processor.

Add the culantro and optional cilantro to the food processor.

Drizzle in half of the olive oil and process. If the sofrito isn't blending, drizzle in the remaining oil until the mixture blends into a chunky consistency.

Pause the food processor and with a rubber spatula, scrape down the sides, and process until fully combined, and no large pieces remain.

You want the sofrito to be similar in texture to a pesto.
If storing in a refrigerator:
Store in a glass container with a tight-fitting lid and it will be good for 10 days.

You can store sofrito in plastic Tupperware, but plan for that container to be your new dedicated sofrito container because it will forever smell of this delicious, herbaceous gold.
If storing in a freezer:
Use ice cube trays to freeze the sofrito first and then transfer the frozen cubes to a freezer bag. Store in the freezer for 6 months or 9 months if you're using a deep freezer.
Notes
How to include your child(ren): This recipe is a great science experiment for exploring the five senses. Sense of smell: these herbs are supremely aromatic. Sense of sound: they snap when you bend them. Sense of touch: they're moist, and the culantro has a prickly edge. Sense of sight: notate the different colors and again once they're blended together. For the more daring of little chefs, the sense of taste: see what they would be willing to try! A No-Waste Pro Tip: Save all of the vegetable ends and skins in a gallon-size freezer bag and store them in your freezer.  When the bag is filled, make vegetable stock! 
Did you make this recipe?
Please let me know how it turned out for you! Leave a comment below, tag @domesticgourmet on Instagram, and hashtag #domesticgourmet.