All products featured on Domestic Gourmet are independently selected. I may earn an affiliate commission when you buy through links on this site.
I made this sangria in collaboration with Malbec Bay, founded by Mercedes and Victoria, two sisters from Argentina. They've brought their love of Argentinian wines to their new home in Tampa Bay. Hence, Malbec Bay!
Malbec Bay Sangria came about when St. Pete Gals and Malbec Bay co-hosted the first-ever Fiesta Tampa Bay. I wanted to sponsor the event out of pride for my culture and as a fellow Hispanic businesswoman. Mercedes, Alexia (founder of St. Pete Gals), and I chatted about how I could contribute, and that's when I decided to make a traditional sangria. But as I was perusing the wine aisle, I realized I had an opportunity to contribute additional support to a fellow small business as well. I left the store and messaged Mercedes about purchasing Malbec from her. I was inspired to create something unique for Fiesta Tampa Bay and all of the small businesses that were uniting to celebrate our Hispanic Heritage and share our culture with the community.
Two things to note; Malbec Bay delivers to Pinellas or Hillsborough County. Use code: domesticgourmet10 for 10% off your purchase. If outside the delivery area, Mercedes recommends looking for Malbec from Catena Zapata. They're a world-renowned winery said to be the best in Argentina since 1902.
iBuen provecho!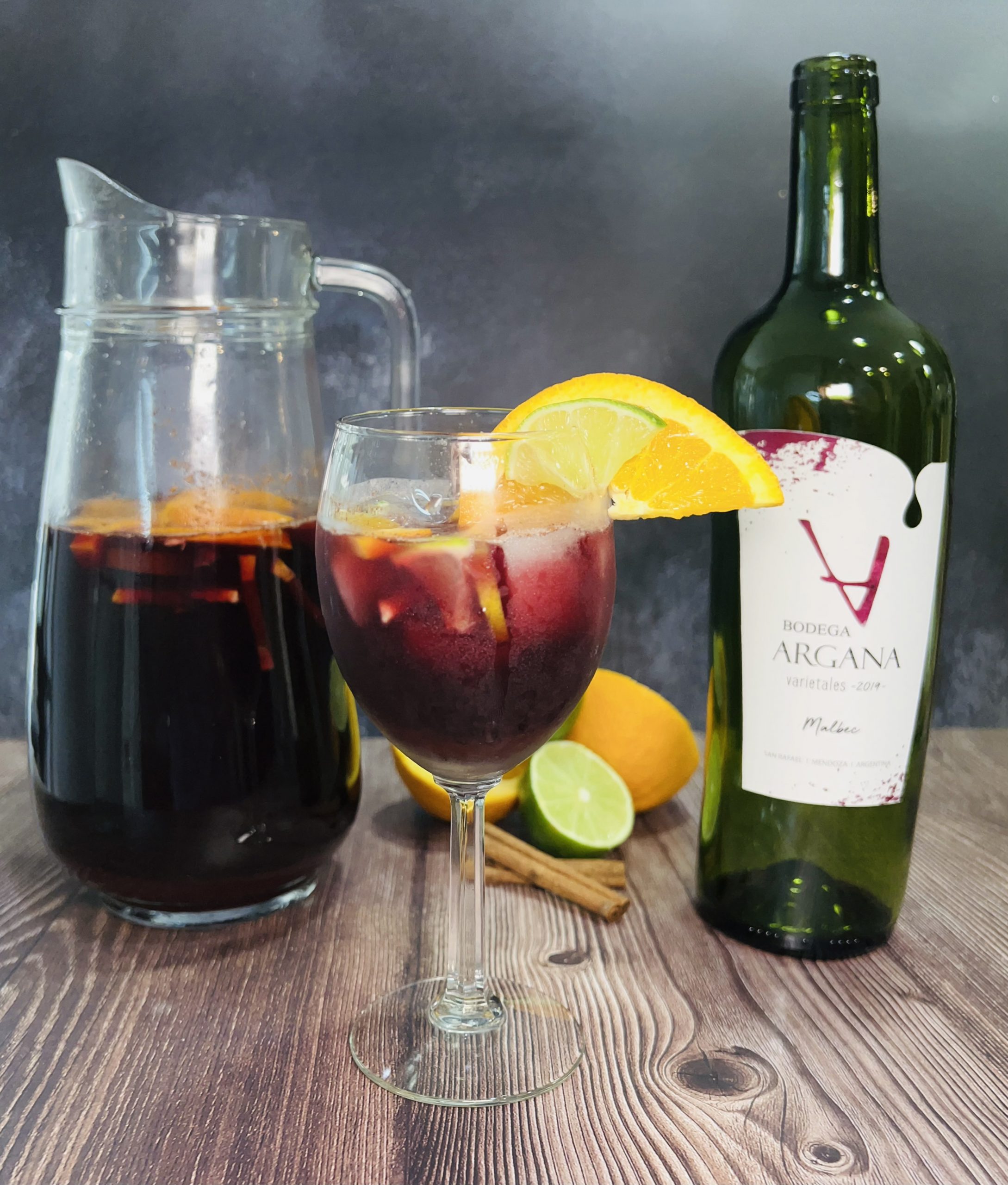 Malbec Bay Sangria
Instructions
Pour Malbec into a large glass pitcher.

Squeeze the juice from one Navel Orange and one lime. Stir into the Malbec.

Stir in ground cinnamon until thoroughly mixed.

Slice the remaining Navel Orange and lime. Add half to the pitcher, reserving the other half to use as garnish.
Optional:
Add desired amount of ice to the pitcher or to each wine glass before serving.
Pro-Tip:
Make a day ahead and store it in the fridge before serving.

Store in the refrigerator for up to 3 days.
No-Waste:
Zest the Navel Oranges and limes before juicing to use in other recipes.

Store in an airtight container or freezer bag in the freezer for up to three months.
Notes
Notes on how to include your child(ren): Sharpen those fine motor and cognitive thinking skills by tasking your little chef(s) with zesting, storing, and freezing the citrus fruits. 
Your older chef(s) could practice their knife skills by slicing the citrus fruit.
***
Assign this task at your own discretion, using your judgment on your child(ren)'s ability, and do so at your own risk.***
Did you make this recipe?
Please let me know how it turned out for you! Leave a comment below, tag @domesticgourmet on Instagram, and hashtag #domesticgourmet.