All products featured on Domestic Gourmet are independently selected. I may earn an affiliate commission when you buy through links on this site.
If you have gorgonzola and 10 minutes, make this cream sauce and dress up everything you can! Grilling steaks? Make this. Making pasta, gnocchi or ravioli? Make this. Dip your frites in it even.
This finishing sauce is a perfect way to dazzle dinner party guests or turn a run-of-the-mill, on-rotation meal into something special without much fuss.
iBuen provecho!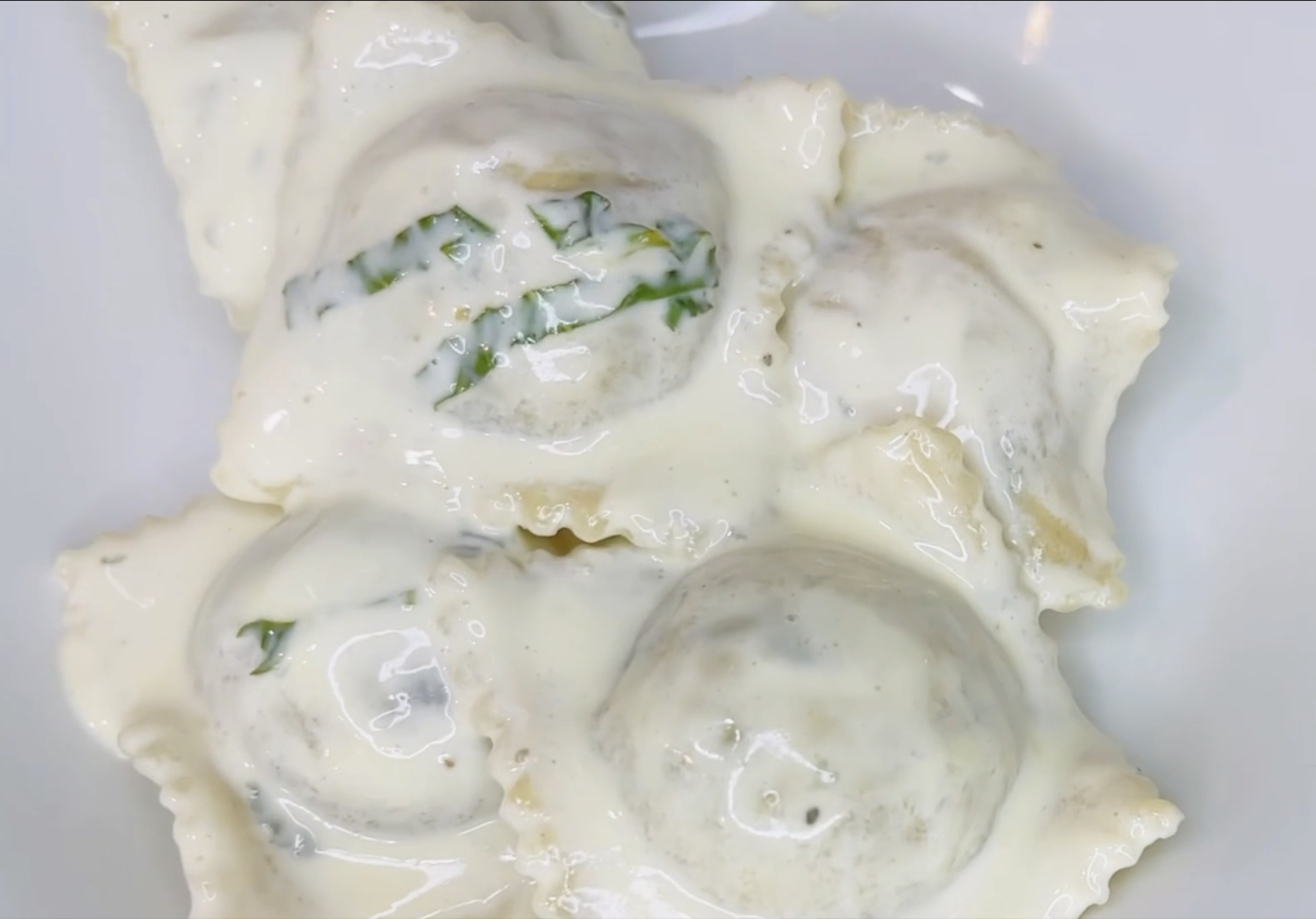 A Luscious Gorgonzola Cream Sauce
Instructions
Roll the basil leaves tightly on a cutting board and cut them into thin strips with a sharp chef's knife. Set aside.

Using a kitchen scale, weigh out 4oz of gorgonzola. Set aside.

In a non-stick skillet over medium-high heat, add heavy cream and bring to a boil, approximately 2-3 minutes. Stir continuously with a wooden spoon, so it doesn't boil over.

Once boiling, lower the heat to medium. Add gorgonzola cheese and fresh-cracked black pepper. Whisk until well blended.

Simmer until thickened, approximately 5-6 minutes.

You will know that the sauce is ready once you run the spoon down the middle of the pan and "split" the sauce.

Another way to check the doneness of the sauce is to coat the wooden spoon with the sauce and run your finger down the spoon to see if the sauce will separate.

Add the chopped basil, stir, and remove from the heat.
Notes
How to include child(ren):  Allow your little chef(s) to set up your Mis en Place. They will strengthen their fine motor skills by pouring the heavy cream and using a peppermill to crack pepper, practice their math and numbers by weighing out the cheese, and if they're not old enough to handle a knife, the younger chef(s) can get sensory play by using their hands to tear the basil. Children will be more apt to try new foods if they're handling the food.  
Did you make this recipe?
Please let me know how it turned out for you! Leave a comment below, tag @domesticgourmet on Instagram, and hashtag #domesticgourmet.