All products featured on Domestic Gourmet are independently selected. I may earn an affiliate commission when you buy through links on this site.
If you already have Puerto Rican Sofrito, you can make picadillo in 10 minutes, flat. This one-pot meal is great for weeknight dinners. I typically serve it with rice and beans or, if I have extra time, as a filler for empanadas.
For an even easier weeknight meal, set up a taco bar! This tomato-based picadillo is excellent for tacos. My cousin, Mary, gave me the idea of a taco bar, and I haven't looked back since. Set out different types of tortillas, toppings, and a bowl of picadillo and let everyone serve themselves. My children are more apt to try new things if they're in charge of choosing to try them rather than me suggesting them, heaven forbid.
iBuen provecho!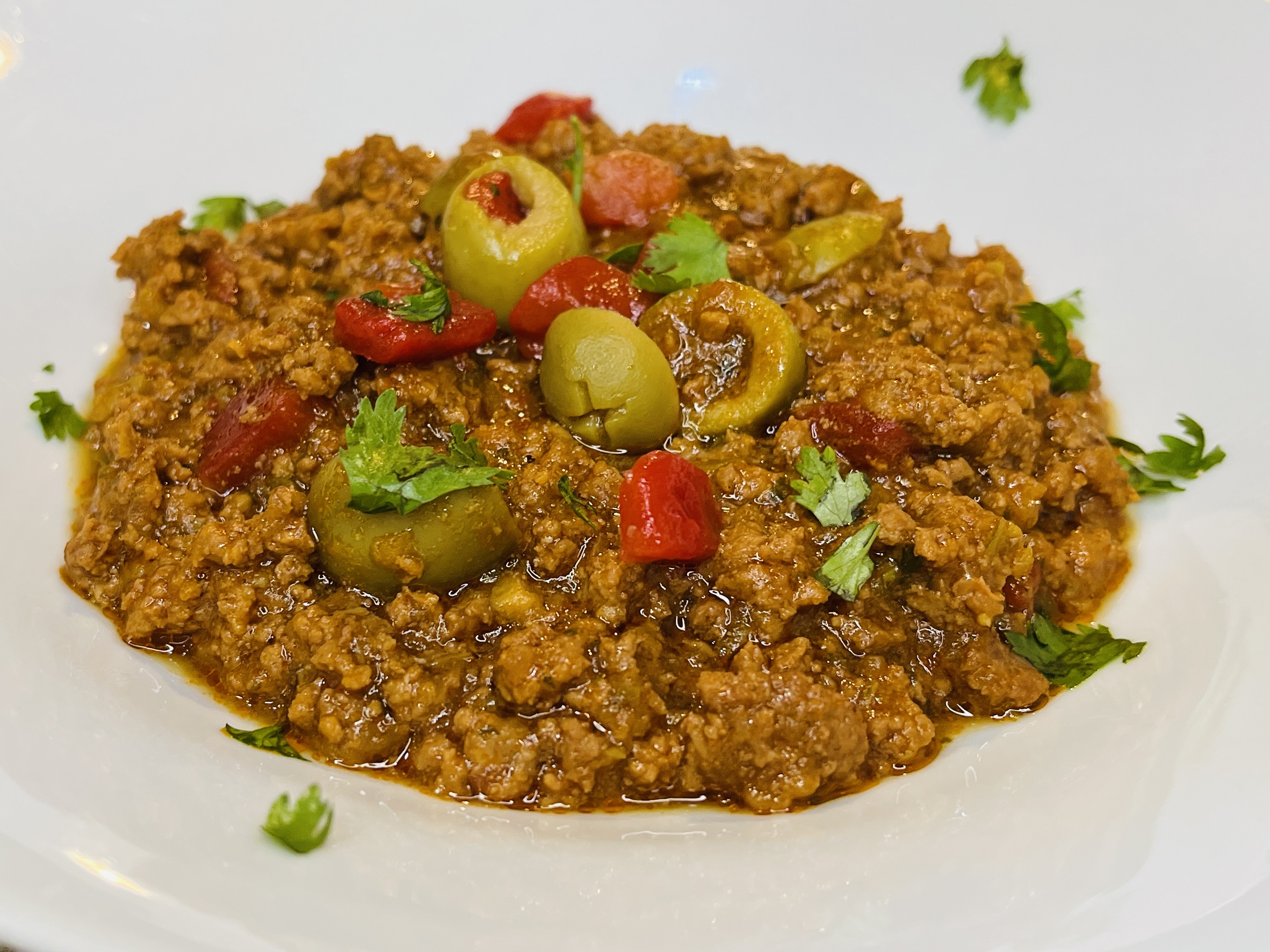 Quick & Easy Puerto Rican Picadillo
A quick one-pot version of Puerto Rican Picadillo
Ingredients
If you don't have sofrito on hand:
Instructions
Preheat pot over medium heat.

Add the ground beef to the pot.

Season the ground beef with the adobo, garlic powder, and onion powder.

Break up the ground beef as much as possible with the mixing spoon and cook through. Ground beef will be brown when it is fully cooked.

Create a well in the middle of the ground beef, and add the sofrito. Sauté the sofrito quickly before mixing it into the ground beef.

Stir in the tomato sauce.

Stir in the sazón and bay leaves.

Simmer for 5 minutes to thicken, occasionally stirring, so the picadillo doesn't burn and stick to the bottom of the pot.

Serve with rice, like tacos, over pasta, or as a filling for empanadas or lettuce wraps.
Pro Tip:
Finely mince the olives and sofrito for picky eaters.

Like any stew, refrigerate the leftovers; it's even better the next day!
No Waste:
Save all the seeds, stems, and skins; freeze the scraps to make vegetable stock another time. Use the search bar to find a no-waste vegetable stock recipe!

Add a little bit of water to the tomato sauce can, swirl, and add it into the picadillo. Don't worry if it's a little watery; it'll thicken, and you'll have used all the tomato sauce!
Notes
How to include your child(ren): Your younger chef(s) can sharpen their fine motor skills by measuring out ingredients and setting up your mise-en-place. If you do not have sofrito on hand, let them get in some sensory play by ripping the green pepper, cilantro, culantro leaves and peeling the garlic and onion. Be sure to give them a pair of goggles if they're handling the onion to avoid a meltdown during the cooking process!
Depending on the age and your comfort level, allow your little chef(s) to pour in the ingredients or mix alongside you.
Little chef(s) can explore their sense of independence by making this beginner-level recipe on their own, elevating their self-confidence and abilities in the kitchen.
Did you make this recipe?
Please let me know how it turned out for you! Leave a comment below, tag @domesticgourmet on Instagram, and hashtag #domesticgourmet.