All products featured on Domestic Gourmet are independently selected. I may earn an affiliate commission when you buy through links on this site.
When I found a truck on the side of the road in the middle of nowhere Florida selling juicy ripe Georgia peaches, I stopped to purchase some. I knew what I would make with them, too; I was going to make these. The filling is simple, highlighting the sweetness of a perfectly ripe Georgia peach.
Peeling the peaches is easy, and you can wrap them in homemade puff pastry or store-bought, simplifying the process even more. Puff pastry is in the frozen food section of most grocery stores, or you can substitute it with empanada wrappers. Puff pastry results in a more buttery, flaky peach pocket over the standard empanada wrapper, lacking the butter and flakiness.
iBuen provecho!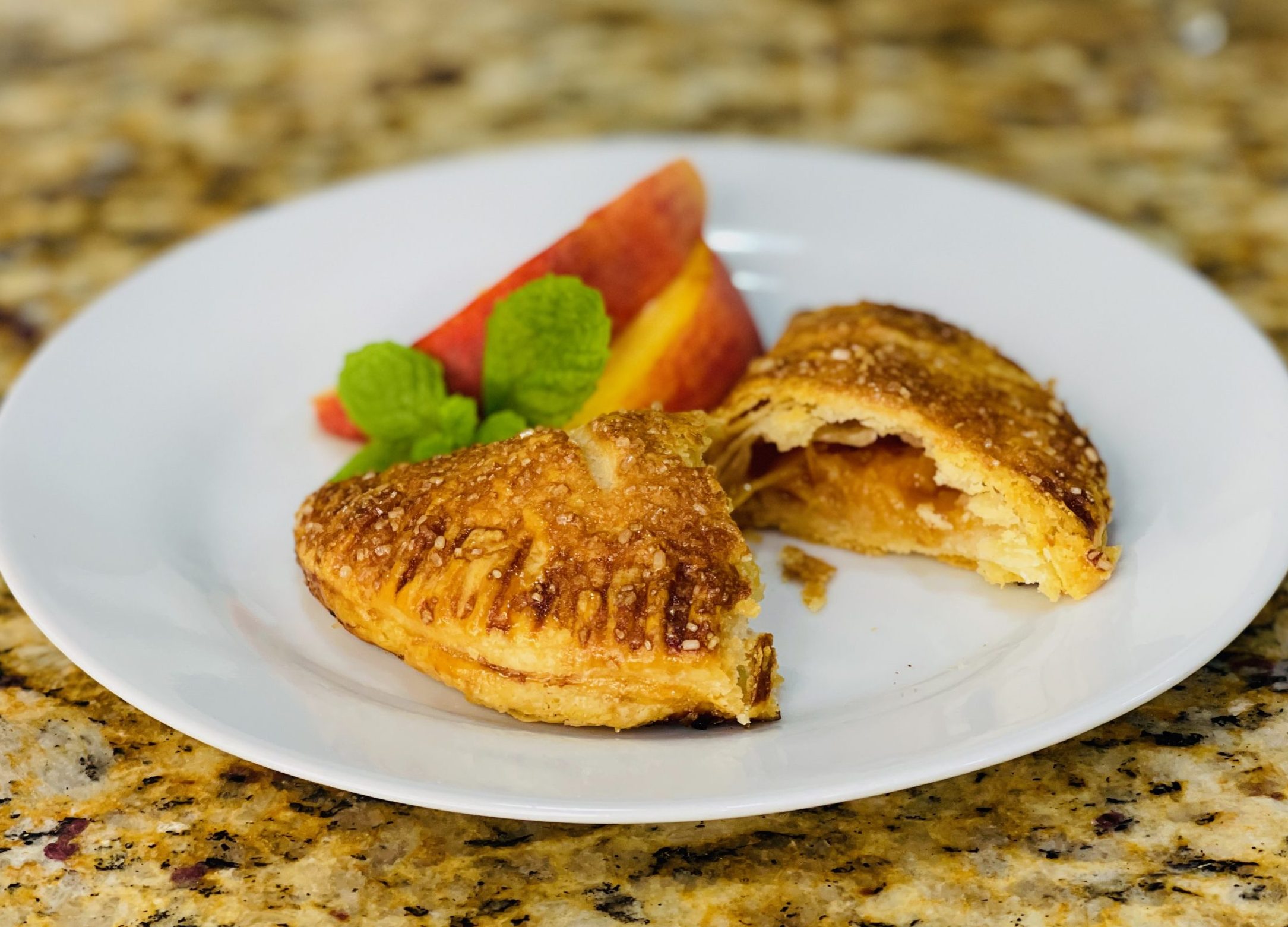 Peach Empanadas
A hand pie full of delicious sweet peaches.
Instructions
For The Filling:
In a small saucepan, add peaches, sugar, lemon juice, and stir until evenly distributed.

Simmer on medium heat until the juice releases from the peaches.

Mix the cornstarch into the water in a separate small bowl to create a slurry.

Add the slurry to the saucepan.

Continue to simmer for 5-10 minutes until the peaches are tender and the liquid is a thick syrup.

Test the syrup by checking to see if it coats the mixing spoon. Once the syrup coats the spoon, the filling is ready.

Set aside to cool to room temperature.

At this point, you can refrigerate overnight or continue to assemble the empanadas.
Assembling The Empanadas:
Preheat oven to 400 degrees.

In a small bowl, whisk 1 egg and set aside.

On a well-floured counter, with a small 4" bowl, cut out 6-8 circles. If the dough gets soft and unmanageable, wrap in plastic wrap and refrigerate until it hardens again.

Flour your rolling pin and roll out your 4" circle of puff pastry until it is about 6" and ⅛" thick.

Place 2 tbs of peach filling in the center of the circle and, using a pastry brush, brush the outer edge with egg wash.

Fold the dough circle over the filling, creating a half-moon shape, and press edges closed using the tines of a form to seal them shut.

Line a sheet pan with parchment paper and place the finished empanadas on the lined pan.

Brush the empanadas with egg wash using the pastry brush and sprinkle liberally and evenly with turbinado cane sugar.

Using a knife, score the tops of your empanadas with 3 lines, creating vents for steam to escape.

Place on the middle rack of the oven and bake for 20-23 minutes until golden in color. If you don't have a convection oven, rotate the tray of empanadas 180 degrees halfway through the baking time to bake evenly.

Remove tray from oven and let cool for 10 minutes before placing empanadas on a wire rack to cool until room temperature before serving.
Notes
How to include your child(ren): Let them peel and cut the peaches; once they cool after blanching, the skin easily slides off.  If the peaches are ripe, they can use a butter knife to practice their cutting skills.  Filling and sealing the empanadas can be messy if you let them help, but no harm, no foul.  These techniques help sharpen those fine motor skills.
Nutrition
Calories:
414
kcal
|
Carbohydrates:
49
g
|
Protein:
5
g
|
Fat:
22
g
|
Saturated Fat:
6
g
|
Polyunsaturated Fat:
3
g
|
Monounsaturated Fat:
12
g
|
Trans Fat:
0.003
g
|
Cholesterol:
20
mg
|
Sodium:
228
mg
|
Potassium:
100
mg
|
Fiber:
2
g
|
Sugar:
23
g
|
Vitamin A:
173
IU
|
Vitamin C:
3
mg
|
Calcium:
12
mg
|
Iron:
2
mg
Did you make this recipe?
Please let me know how it turned out for you! Leave a comment below, tag @domesticgourmet on Instagram, and hashtag #domesticgourmet.