All products featured on Domestic Gourmet are independently selected. I may earn an affiliate commission when you buy through links on this site.
Don't waste those fresh carrot greens; they're edible and delicious! You can add them to salads and soups and make sauces, dips, or pesto. The carrot tops taste like carrots and have the herbaceousness of greens. If you could imagine a pesto with a hint of carrot, you'd agree it would make for a delicious spread, dressing, or dip. I recommend using the Ninja Nutri Pro to whip this up. It'll take seconds, all the pieces are dishwasher safe, and it's the best personal blender on the market. This workhorse is worth every penny.
Save the hard carrot top between the greens and the actual carrot. You can freeze that unappetizing bit and use it to make vegetable stock!
iBuen provecho!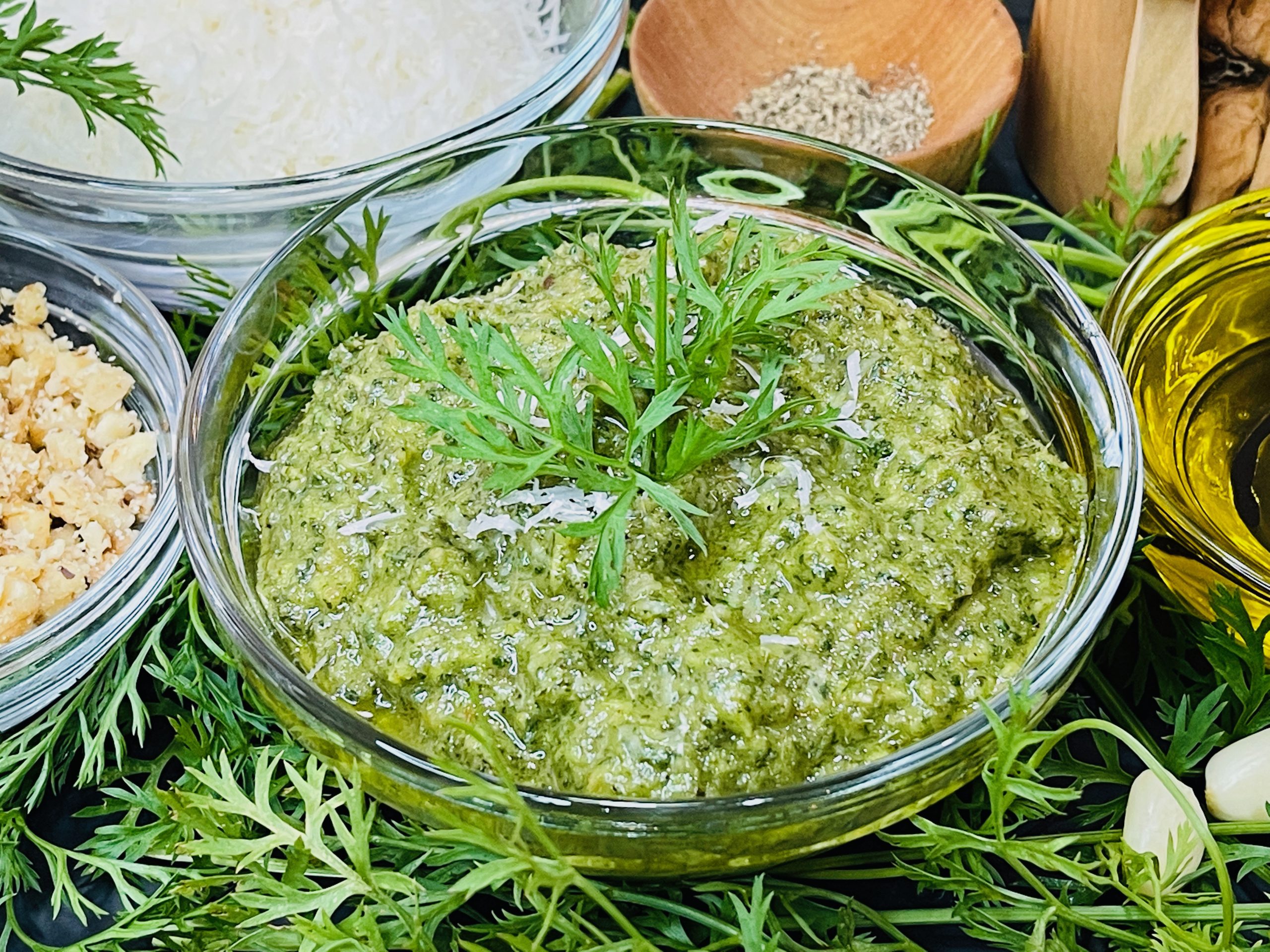 Walnut Pesto Made With Garden-Fresh Carrot Greens
Instructions
Remove carrot greens from carrots, cutting ½" above the hard carrot top.

Wash greens by submerging in a bowl of cold water and gently shaking the dirt and debris away.

Lay greens out to dry on a clean towel.

Once carrot greens have dried, add them along with walnuts, Parmigiano-Reggiano, garlic, pepper, and salt in a food processor or blender.

Secure lid but remove the pusher.

Turn the food processor or blender on and slowly drizzle the extra virgin olive oil through the feed tube.

Blend for 15-20 seconds and then turn off and remove the lid.

With a rubber spatula, scrape down the sides.

Replace the lid and blend for another 15-20 seconds.

Pesto should be coarse in texture but well blended.
How to store:
Store in an airtight container in the refrigerator for up to a week.

Freeze using ice cube trays and store in a freezer bag for up to 6 months.
Notes
How to include your child(ren):   Sharpen those listening and fine motor skills by allowing your little chef(s) to set up your Mise en place.  Let them get in some sensory play by showing them how to separate the carrot greens from the carrots and tasking them with the job.  The more food kids get their hands on, the more they will be willing to try.
Did you make this recipe?
Please let me know how it turned out for you! Leave a comment below, tag @domesticgourmet on Instagram, and hashtag #domesticgourmet.