All products featured on Domestic Gourmet are independently selected. I may earn an affiliate commission when you buy through links on this site.
Nothing says comfort food more than a warm bowl of chicken soup. Being primarily of Cuban and Puerto Rican descent, I sometimes cook a fusion between my two cultures, and this version of chicken noodle soup is no different. I use achiote oil and Puerto Rican sofrito for my base but finish with fresh chopped cilantro and a squeeze of lime; both final touches are optional.
Fideos are thin egg noodles, like capellini, vermicelli, or angel hair pasta. Whether you get the broken noodle variety that is about 1″-2″ long or the regular long noodle variety, it is up to you.
iBuen provecho!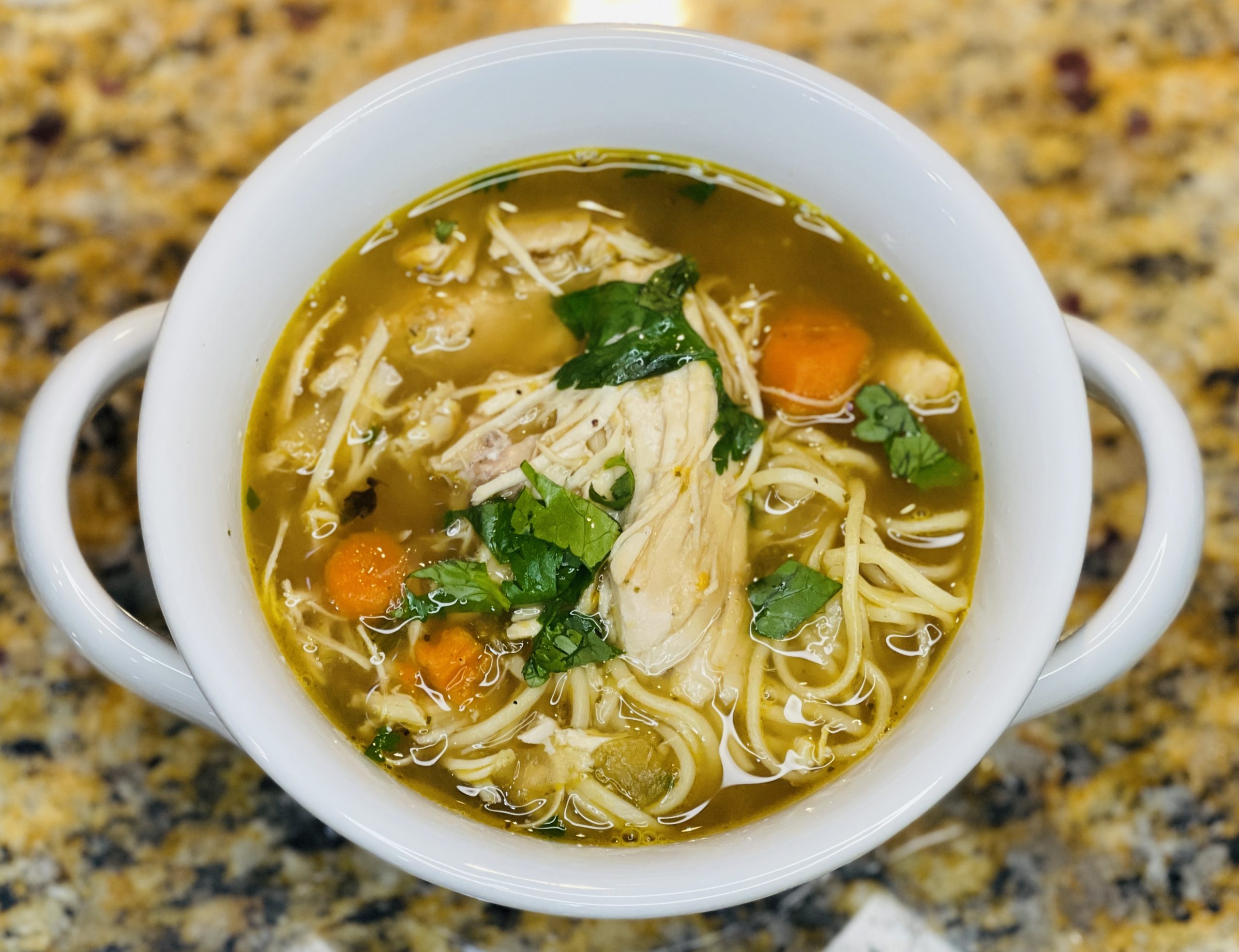 Sopa de Pollo con Fideos (Latin American Chicken Soup With Noodles)
This version of Latin American chicken noodle soup is a Fusion of Cuban & Puerto Rican cuisine.
Instructions
Season chicken breasts with salt, pepper, garlic powder, onion powder, and oregano; sprinkling both sides evenly. Marinate and cover for at least an hour before cooking.

For best results, season the day before and let marinate for up to 24 hours.

If the chicken marinated overnight, remove the chicken from the refrigerator 1 hour before cooking and let it get to room temperature.

In a Dutch oven or stockpot, add in the achiote or olive oil over medium heat.

Once the oil starts to glisten or the heat reaches 375 degrees, use tongs to place the chicken breasts in the Dutch oven or stockpot, skin-side down to sear until golden brown. About 8-10 minutes.

Once the chicken breasts have seared to a golden brown, remove them with tongs and place them on a plate or platter.

Add the celery, carrots, onions, garlic, sofrito, and bay leaf into the pot. With a wooden spoon, scrape the browned bits off the bottom of the pot and cook down until slightly tender. About 5-7 minutes.

Add the chicken breasts back into the pot, this time skin-side up and cover with 8 cups of stock.

Raise the heat to high and bring to a boil.

When the soup is boiling, cover with the lid and lower the temperature to medium-low to low. The temperature will depend on your stove, you want the soup to be slightly simmering.

Cook on medium-low to low temperature for 2-4 hours. The longer, the better. The chicken should be "fall off the bone" tender.

Using tongs, remove the chicken breasts from the pot and place them onto a plate or platter. Remove the skin and bones with a fork and knife and return only the breast meat to the pot.

Add ¼ cup chopped cilantro and bring the soup back up to a rolling boil.

Add in the fideos. You can substitute with any fine egg pasta such as vermicelli, capellini, or angel hair.

Cook for 2-3 minutes until al dente.

*Pictured is homemade capellini.*

Serve soup using a soup ladle and garnish with a sprinkle of chopped cilantro and an optional squeeze of lime.
Notes
How to include your child(ren): 
There are many steps in which you can choose to include your little chef(s) depending on age.
Younger chef(s)
can rip off the celery leaves, hand tear the cilantro, or use a fork and butter knife to remove the skin and bones from the cooked chicken (you can leave the chicken on the counter to cool beforehand); for a sensory activity.
Older chef(s) 
can prep the Mise en place for self-directed learning. If you do not have 
Puerto Rican sofrito
 on hand, depending on their skill level, allow your older chef(s) to make it for you. The recipe has been made available for them at the top of the page; click the "Puerto Rican sofrito" link.
Did you make this recipe?
Please let me know how it turned out for you! Leave a comment below, tag @domesticgourmet on Instagram, and hashtag #domesticgourmet.