All products featured on Domestic Gourmet are independently selected. I may earn an affiliate commission when you buy through links on this site.
Want to wow your family and friends? Pair this with a wine or cheese tasting, have them available for brunch, or atop your homemade artisan pizza; these preserves are a sophisticated addition to savory and sweet dishes. The possibilities are endless.
You'll need a canner and a canning kit with everything you need to fill, correctly measure and handle the hot jars. This recipe makes six 8oz jars, but I like to substitute a few 4oz jars to keep on hand to serve as gifts for my friends and family. They make an excellent addition to a homemade gift basket; add wine, cheese, and crackers.
iBuen provecho!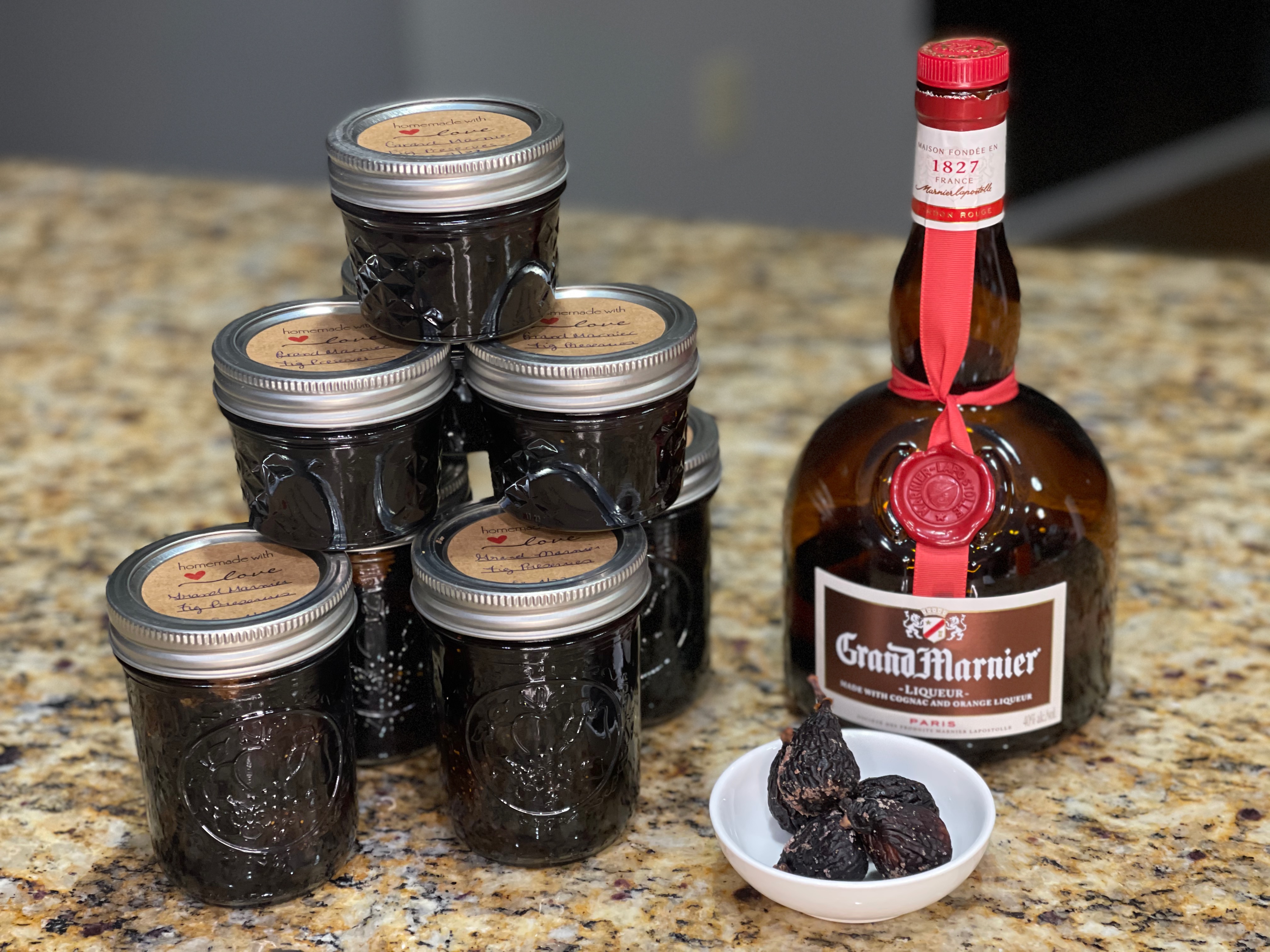 Grand Marnier Fig Preserves
Tender sweet figs preserved in a syrup with a hint of Grand Marnier.
These are shelf-stable once the canning process is complete for 1 year. You can forgo the canning process and refrigerate for up to 3 months.
Instructions
Fill your canner with water and set to a light simmer.

Wash your canning jars and place inside canner to lightly simmer and sterilize while you prepare your preserves.

If you do not have a canner, you can place a washcloth on the bottom of your deepest pot to cushion your jars and prevent them from cracking. Your pot must be deep enough to cover your jars by a minimum 1 inch of water.

In a large pot bring dried figs and water to a boil and then lower to a simmer for 20 minutes.

Place a glass plate in the freezer. You'll need this later for a gel test.

Once your figs are soft, add in fresh squeezed orange juice, lime juice and fruit pectin. Mix well.

Bring back up to a rolling boil and add your sugar all at once. Seriously, dump it all in and stir continuously for about 1 minute, until the sugar has dissolved and the stirring does not stop the boiling.

Remove pot from heat, stir in the Grand Marnier and skim the foam off the top. If you want less of a liquor flavor, cook down the alcohol for another minute or two. You can complete this step to taste, be careful not to burn yourself with the scalding preserves.

Remove the cold plate from the freezer. Pour a teaspoon of the preserves in the middle of the plate, with your finger, swipe down the middle of the preserves and check that they separate and slowly meld back together. If you've achieved this gel-like consistency, then your preserves are ready for canning. If not, continue to boil the preserves for another minute or two and repeat the test.

Fill your jars while they are still hot so they do not break with the freshly boiled preserves.

Wipe the rim with a moist paper towel, a sticky rim will make it nearly impossible to open after canning. Twist on the lid until it's just tight but not too tight. You want the air inside to be able to escape once you boil them but no water to seep in. If you have a stone counter top, put a towel down so the cold counter doesn't crack your hot jars.

Fill jars, leaving a ¼ inch of room at the top. I like to use a wide-mouth funnel to make filling the jars easy and mess-free.

Place full jars back into the canner, making sure that jars are covered by at least 1 inch of water. Cover your pot with the lid and bring to a boil, boiling for 10 minutes.

Turn off heat, remove lid and let sit for 5 minutes.

Remove jars from the canner and set them on a towel to seal. Let them sit on your counter, on top of a towel, until the jars have reached room temperature. If the jars have not sealed after 12 hours, you can repeat the canning process. You'll know when the jars have suctioned by either hearing a loud "snap!" or seeing the indentation on the lid.

Once properly sealed, this is shelf-stable for 1 year.
Notes
How to include your child(ren):  Fill your clean kitchen sink with warm soapy water and let them wash your jars and lids.  They can help set up your mise en place, too!  Read them the ingredient list, watch as they collect the ingredients and help them to measure everything according to the recipe.  This exercise helps sharpen fine motor skills, listening skills and elementary math!
Did you make this recipe?
Please let me know how it turned out for you! Leave a comment below, tag @domesticgourmet on Instagram, and hashtag #domesticgourmet.